Quick, user-friendly and documentable
Quality e-learning in surgical diathermy for healthcare professionals
Increase patient safety with e-learning by Quomodus
Since 2015 Quomodus has developed the digital course Diathermy – a practical guide to electrosurgery for surgeons and other professional users of electrosurgery.
The 30-minute course covers the history of electrosurgery, indication and proper use, adverse effects and complications associated with the use of diathermy. The course ends with a theoretical test that can be documented for state supervision with a printable diploma.
The course has been tested and quality assured by health professionals in Scandinavia. The course is flexible, user friendly and applies to all models of diathermy equipment currently on the market.
---
Electrosurgery is used for cutting and coagulating tissue in eight out of ten surgeries performed today. Even as its use in outpatient settings continues to grow, consider these facts:
Electrosurgical injuries have increased. Each year some 40,000 patients are burned by faulty electrosurgical devices, and the burns may cost $50,000 a case to treat. In 1999, nearly $600 million was paid in claims regarding electrosurgical injuries.

When electrosurgery is used in laparoscopic procedures, nearly 70 percent of electrosurgical burns go undetected at the time of surgery.

A survey of members of the American College of Surgeons showed 18 percent experienced insulation failure or capacitive coupling during electrosurgery, and 54 percent of surgeons knew of a colleague who had experienced a stray electrical burn.
Source: 
Association of periOperative Registered Nurses (AORN)
Course features

Chapter 1: Introduction
Chapter 2: Short history
Chapter 3: Principles
Chapter 4: Electro Surgery Unit
Chapter 5: Bipolar and Monopolar
Chapter 6: Return Electrode
Chapter 7: Endoscopy and Laparoscopy
Chapter 8: Metal, tattoos, active and in-active implants
Chapter 9: Safety aspects
High quality content from Northern Norway
Quomodus was founded in 2015 with the aim of creating diathermy training based on the principles of diathermy rather than the products sold. Our team has experience from the healthcare service, storytelling and visual communication.
The head office of Quomodus is situated in Tromsø, Norway, in a vibrant area surrounded by medical and scientific communities such as UiT The Arctic University of Norway, the University Hospital of North Norway, which serves patients over an area of 112,951 km², and Norinnova – one of the largest competence communities in Northern Norway within idea development based on research and innovation.
We have a user-centred approach and work closely with experts and doctors when developing our products.
Our course is currently used at several hospitals in Norway
Diathermy is used almost in all surgical procedures and is potentially a dangerous tool. This e-learning course from Quomodus contains everything from indication, proper use, side effects and complications associated with the use of diathermy and I highly recommend all surgeons in training (and others using diathermy) use this course as part of their training.
Theatre nurses are always working with patient safety.  This course provides secure and proper use of diathermy in surgery.  It has clearly defined learning outcomes and the modules provides logically progression in how to use diathermy for different surgical interventions.  I will recommend it for both theatre nurses and surgeons, both as learning and repetition in how to use diathermy.​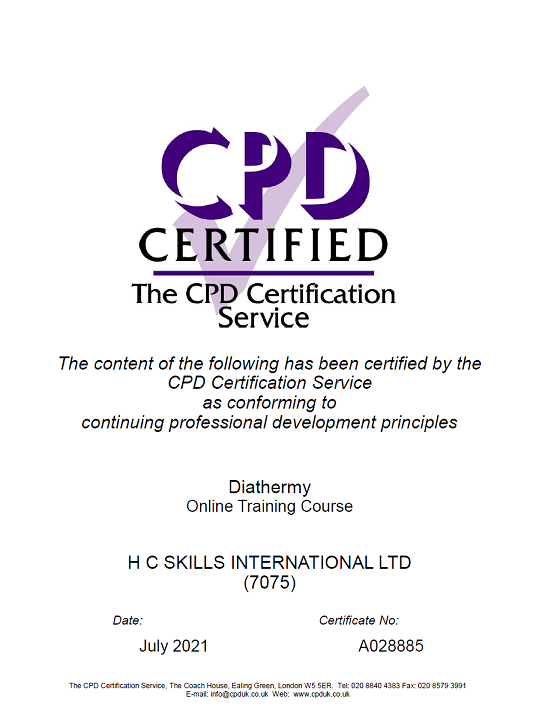 in association with Healthcareskills Training International Ltd